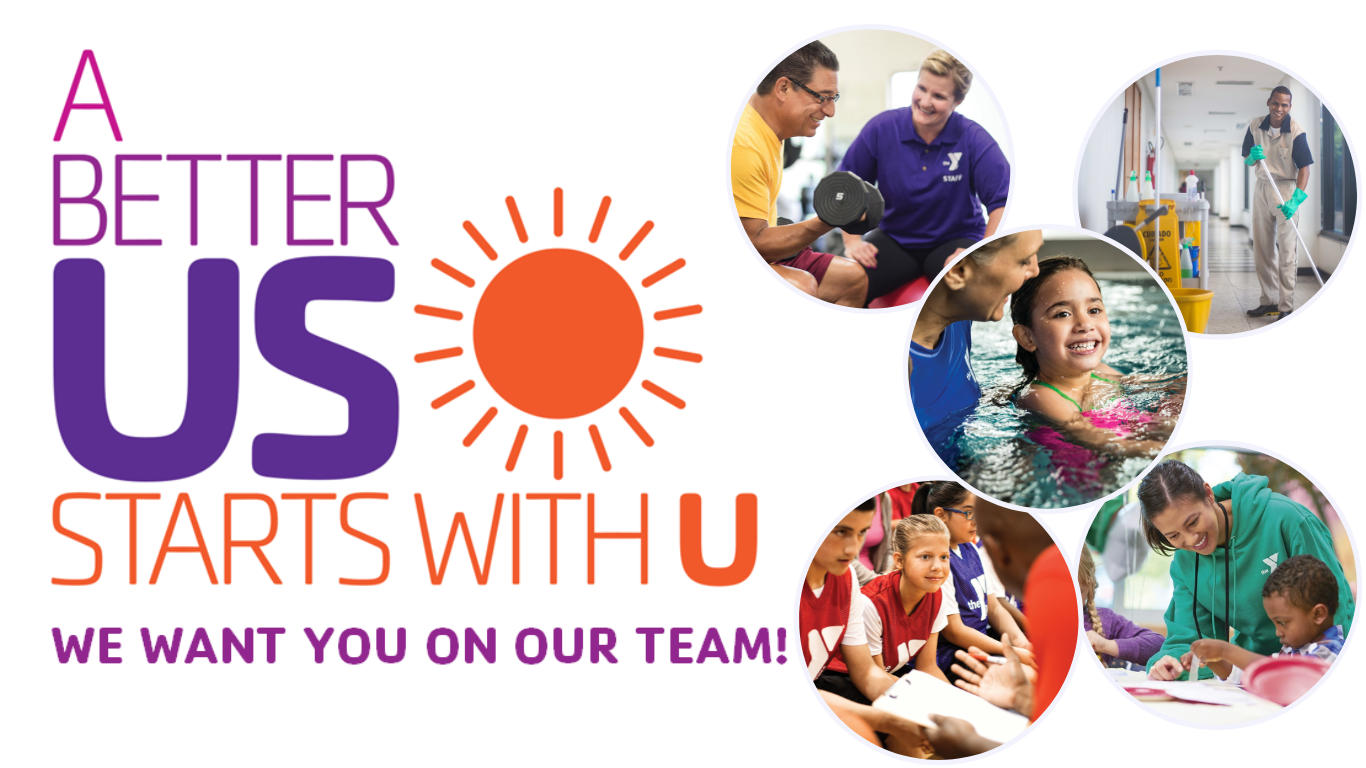 If you want more than just a job – if you're looking to discover a sense of purpose and opportunities to contribute to the greater good – then the Y is the place for you. Join us!
WORK THAT MATTERS
Imagine going to work knowing that what you do each day positively affects the lives of the people in your community. Working at the Y, you'll discover more than a job - you'll enjoy the opportunity to make a lasting difference in the lives of those around you.
THE Y IS FOR ALL
Here at the Y, we believe that a healthier and stronger community emerges when everyone has the opportunity to cultivate and nurture a healthy mind, body and spirit. Our core values are honesty, respect, responsibility and caring--they guide everything we do. Together we ensure that everyone across age, ability, cultural background, ethnicity, faith, gender expression, gender identity, ideology, income, language, national origin, race, religion or sexual orientation has access to resources to reach their full potential.
WHAT WE STAND FOR AS A COMMUNITY ORGANIZATION
The Y is a leading non-profit committed to strengthening community by connecting all people to their potential, purpose and each other. We focus on empowering young people, improving health and well-being, and inspiring action in and across communities. By bringing people together from different backgrounds, perspectives and generations, we ensure that we all have access to the opportunities, relationships and resources necessary to learn, grow and thrive.
---
employee benefits
Your benefits are an important part of your overall compensation.Our competitive benefit plan options are specifically designed around our Y values to support our staff and their families on the path to healthy living.
Benefits summaries
Full-Time 35+ hrs/week
Part-Time 20-34 hrs/week
Part-Time Up to 19 hrs/week
---
to apply for an open position:
1 - Fill out the employment form
2 - submit your resume & employment application
Applications are also available at our Welcome Center desk. All applications will be kept on file for one year.
---
work permits
Requirements for employment of minors:
--A work permit is required before anyone under the age of 16 is allowed to work in any job at the Y.
--A work permit must be on file with Human Resources for the minor being employed, before they are allowed to work.
Obtain a work permit:
---
aquatics director
full-time
We are seeking an Aquatics Director to join our team. The Aquatics Director creates a positive member experience at the Y and provides direct leadership, instruction, and motivation for aquatics staff.
---
child care teacher
full-time
The Fond du Lac Family YMCA is seeking a caring and motivated individual to provide loving and quality care for our Child Care children. Our teachers provide a quality experience to children and parents that focus on the YMCA values: honesty, respect, responsibility and caring.
---
adaptive program instructor
AQUATICS AND GYMNASTICS; PART-TIME
The Fond du Lac Family YMCA is hiring adaptive instructors to provide direct leadership, instruction and motivation for participants with unique abilities in swimming and/or gymnastics classes and to positively model and reinforce the YMCA's core values and mission statement while providing a safe, welcoming environment where members and guests of all ages, cultures, and abilities can learn how to swim.
---
Gymnastics Coach
Part-Time
The Fond du Lac Family YMCA is hiring a Gymnastics Coach to positively model and reinforce the YMCA's core values and mission statement while inspiring and enabling gymnasts to achieve their greatest potential, developing skills and techniques to succeed in and outside the gym.
---
For any further questions regarding employment opportunities, please contact Lisa Wiercinski, HR & Volunteer Coordinator, at 920.921.3330 ext 310 or lwiercinski@fdlymca.org. The Fond du Lac Family YMCA is an equal opportunity employer.