The Festival Foods Turkey Trot
Thanksgiving Day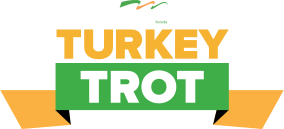 This annual event is meant to be fun for the whole family, not just seasoned athletes; perfect for anyone who wants to kick off Thanksgiving Day with a bit of exercise and a lot of fun!
Register Here Volunteer Here FAQ
---
Event Information
Shirts and bibs can be picked up in the front of the Fond du Lac High School in the cafeteria between 2–6 p.m. on Wednesday, Nov. 24 and beginning at 6:30 a.m. on Thanksgiving Day.
The Trot starts promptly at 8:00 a.m. with two different start lines. Be sure you are in the correct area to ensure you are on the right course. If you are a 5-mile participant but you line up at the 2-mile start line, you will end up on the 2-mile course and will not be chip timed. Slow movers and strollers are asked to line up at the back of their respective group. Dogs will line up on the 2-mile course and will start after all participants.
The 5 mile run is a timed event. The 2 mile walk/fun run are NOT timed events
Wave One: 5-Mile Run
Wave Two: 2-Mile Fun Run
Wave Three: 2-Mile Walk
Wave Four: Dog Jog
---
Location
Fond du Lac High School
801 Campus Drive, Fond du Lac, WI 54935
Start Time:
8:00 AM
---
The Turkey Trot benefits the Boys & Girls Club and YMCA in communities Festival Foods serves. Both of those organizations provide volunteers in return for monetary proceeds.
* Race day registrants not guaranteed shirt size.