Y KIDS' TRIATHLON
12:00 pm
Waves start at 12:00 pm, 12:15 pm, 12:30 pm, 12:45 pm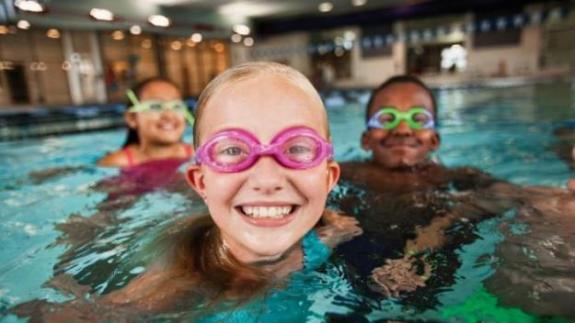 Open for youth ages 6 - 12. Limited space available.
Event fee: $10 Y members | $15 Community Participants
Pre-registration is required.
Register online under COMMUNITY EVENTS / INDOOR/OUTDOOR KIDS TRIATHLON, or in person at the Welcome Center Desk.
Thank you to our sponsor:

---
CHECK-IN
Check in will begin 11:00 am at the check-in table at the start of Healthy Kid's Day. There will be volunteers around that day, so if you have any questions, please find one of them and ask!
START – BIKE
Stationary bikes will be set up outside on the Child Care playground. Waves will begin every 15 minutes based on registration times. Participants will bike for 10 minutes. If weather does not allow us to be outside, the bikes will be set up in the Family gym. After the bike, participants will proceed to the run portion of the tri.
RUN
The run will be outside and participants will exit out the Child Care playground gate, go directly across the parking lot to the sidewalk on Second Street, turning left. The runners will follow the sidewalk turning left, and go around the block to the trail that runs along the river between the Y/BGC and City/County building. They will enter the driveway near the Boys and Girls Club, run along the driveway going behind the Club building and proceed up the back ramp entering the Y side door.
SWIM
After the run the participants will go in the boys or girls locker room. If needed, they may change into swim attire. They will enter the pool for a timed 10 minute swim (goggles are recommended).
4ft deep lanes are available in our family pool, if a swimmer is not able to swim in deeper water.
---
EVENT GUIDELINES AND SUGGESTIONS
1. Eat well the night before and get a good breakfast the morning of the event.
2. Please do not bring your own bike, we will have stationary bikes provided for you.
3. Make sure you bring your own water bottle and nutrition.
4. It might be wise to wear your swimming suit with clothes over it to help shorten the transition time from running to swimming. Make sure you have good tennis shoes for biking and running.
5. Please encourage family and friends to come and cheer on the participants! You will be able to make posters at one of the Healthy Kid's Day booths to help cheer on the kids. There will be plenty of room outside and in the pool for parents and friends to show their support, as well as in the gym if needed.
---
If you have any questions, please contact:
Jennie Mildebrandt
Aquatics and Family Director
(920) 921-3330 ext. 317